My name is Allison and I am 7 years old. I love to swim, but when I am not swimming, I like to read, do crafts, running and basketball/tennis. My best swimming memory is when I dressed up as the Incredibles (Elastigirl) and one of my instructors (Megan) was dressed up like her too!
I have taken my patches to show and tell this month when I was Student of the Week at school – I was so proud! My favorite strokes are breast stroke and butterfly. I like the instructors most at Charlotte Aquatics – "they are like a second family to me." I started with Gigi when I came to Charlotte Aquatics and I wanted to graduate with her. I can't wait to continue as an Elite Fish now! My favorite memory of Charlotte Aquatics is finding the elf at Christmas!
Parent Note: As parents, it has been amazing to watch Allison grow at Charlotte Aquatics, not only in her swimming skills but also in her confidence and relationships with the coaches there. We wanted her to start swimming lessons for her safety in and around the water. We did not know that her love of swimming would flourish as she continued to learn the strokes and progress within the levels, and that makes us so proud. The instructors at Charlotte Aquatics are AMAZING – we could not say enough good things about the support she has received.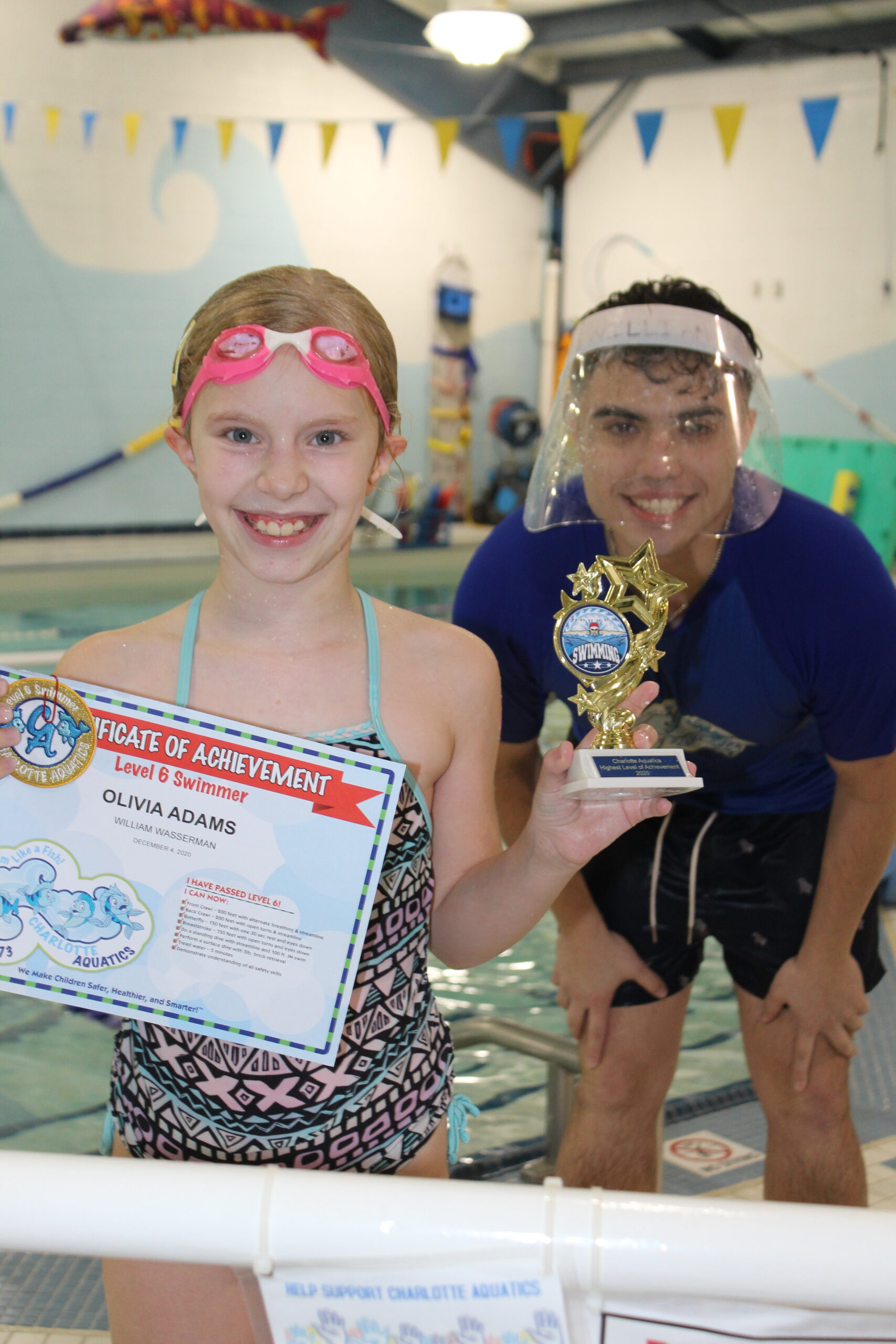 Hi my name is Olivia and I am 9 years old. I started taking swim lessons at Charlotte Aquatics when I was 4 and have loved coming here every week to swim and learn. My favorite teacher is Mr. William – he is a great coach and taught me lots of cool strokes, and is really nice to me. My favorite stroke is the breast stroke (the hardest one for me!) and I love to swim underwater and hold my breath. I was super excited to get my trophy and I will put it on the highest shelf in my new room! Thank you Mr. William for teaching me cool strokes and I will miss you.
Olivia Adams ❤️🐠🐬 swim like a fish 🐟🐟🐟🐟
Parent Note: We are very proud of Olivia for working so hard to graduate level 6. Even right after receiving her trophy she told us that she doesn't want to leave! She loves the water and loves to swim and says that now she wants to try out for the swim team. As parents we feel that there is a big difference between "just" learning to swim vs. learning all of the strokes proficiently over time. It teaches great endurance, confidence and love for the water. Olivia has an older sister who also graduated from Charlotte Aquatics a few years ago so we have spent many hours over the years enjoying watching them. All of the coaches have been terrific during their time but our favorite has been Mr. William. He is a disciplined coach but goofy fun at the same time! Thank you to everyone at Charlotte Aquatics for teaching our girls a most important lifelong skill 🙂
Madelyn Lathan is 11 years old and is in the 5th grade. She is a great student and excels in reading and math. She enjoys art as a hobby and would like to be an actor. She also has her own You Tube channel and enjoys animating too. Animals, particularly animal babies, are great favorites of Madelyn's as well. Swimming, of course, is among her favorite activities. 😁
We are so proud of John!  He graduated the day before he turned 7 years old – what a birthday present! He worked REALLY hard to earn his trophy and loved working with Gigi!  John has been swimming at Charlotte Aquatics since he was a year old, and followed in his big sister's footsteps of attaining the goal of getting that graduation trophy! 
Parent Note: We can't thank Charlotte Aquatics enough for teaching our kiddos to be safe in the water, and encouraging them to master the skills and accomplish their goal!  One more Taylor kiddo to go 🙂