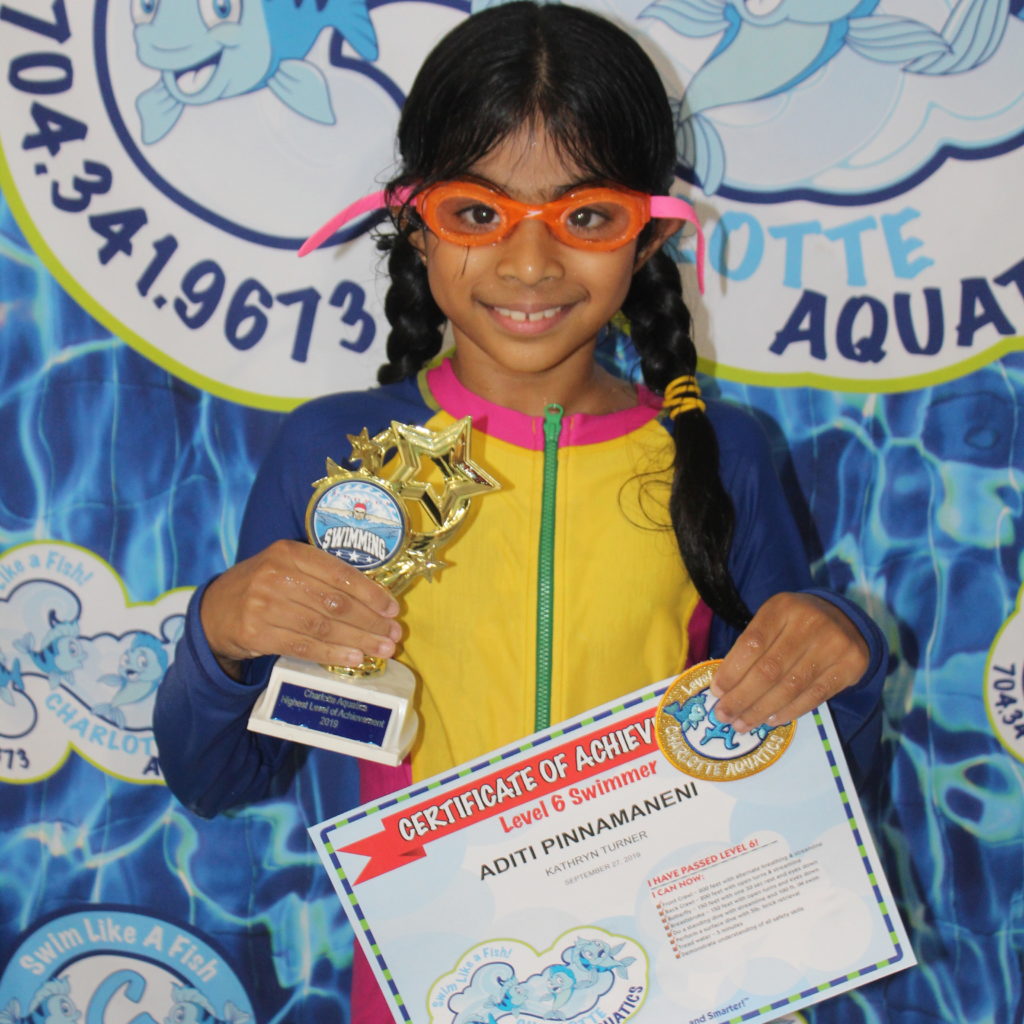 My name is Aditi and I am 8 years old. I am in third grade. When I am not swimming, I do homework, play piano, karate, play outside and I love to bike. My best swimming memory is swimming at the beach. I store all my patches. My favorite stroke is butterfly. Swimming has changed my life because I can do a lot of things in the water and be safe. I love to have fun at Charlotte Aquatics. My favorite memory is getting my trophy.
Xavia is a 5-year-old, kindergartener, who started lessons at Charlotte Aquatics as a 2-year-old, level 2a swimmer. She loves penguins, Tae Kwon Do and swimming with her sister.
Parent Note: We are thankful to Charlotte Aquatics for giving her a love for the water and all the tools to be a safe swimmer. We could have chosen a swim facility closer to home but found Charlotte Aquatics' commitment to quality instruction well worth the drive.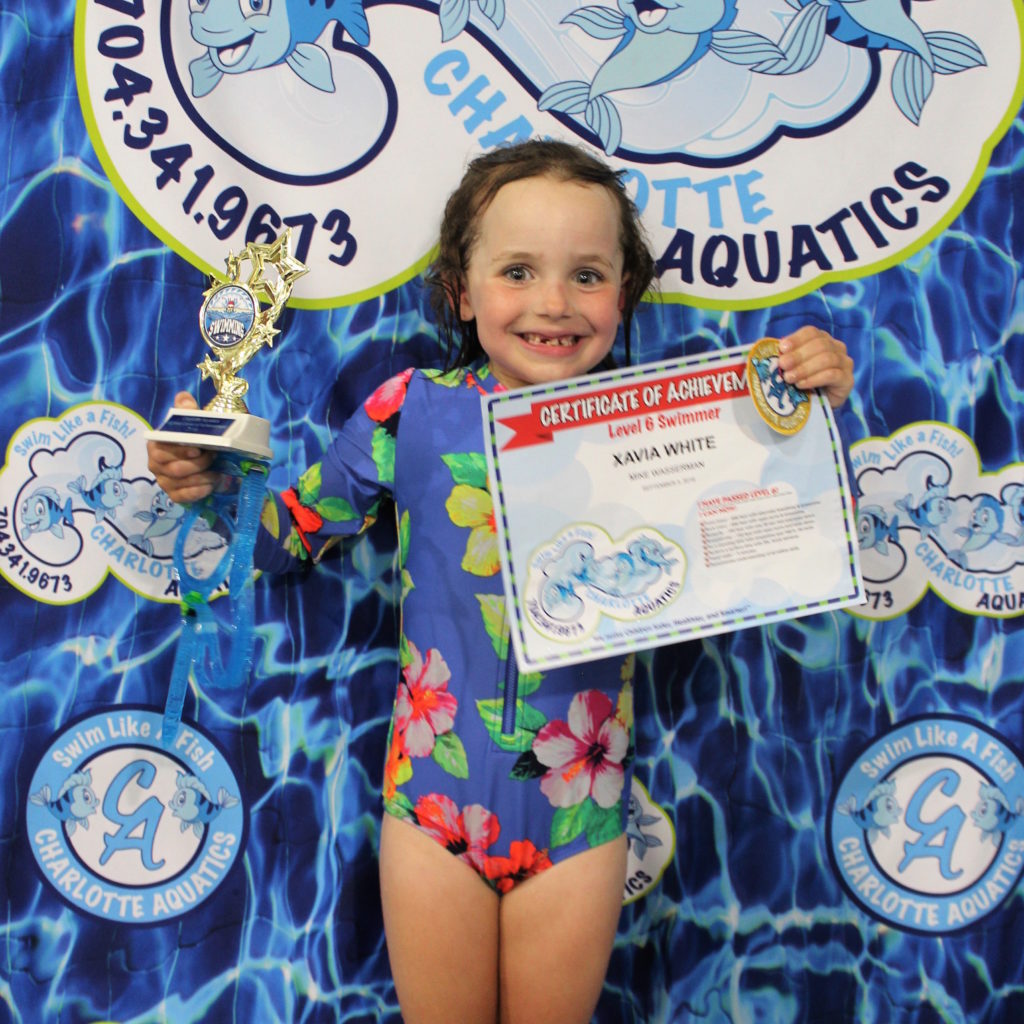 My name is Isabella and I've been at Charlotte Aquatics for a long time. I've been working towards graduation and was excited to receive my trophy! My favorite thing about Charlotte Aquatics is the teachers. I like them all, especially that they always remember my name even when I'm not in their class anymore. My favorite stroke is the breaststroke! When I'm not at swim, I play softball and like to build Legos. My favorite memory of swim class is safety day, when we get to go across the pool in the inflatable boat! My mom has all my patches saved; I think I'll put them on my beach bag!
May name is Sana and I am a third grader. My favorite instructors are Ms. Katherine, Ms. Deborah, Ms. Megan and Mr. Mike. Thank you so much for teaching me how to swim safely, quickly, and happily. A big thank you to all my teachers to be patient with me and for making me love swimming. I loved collecting all my patches, they are my treasures for life! I loved it when I got the trophy after my hard work.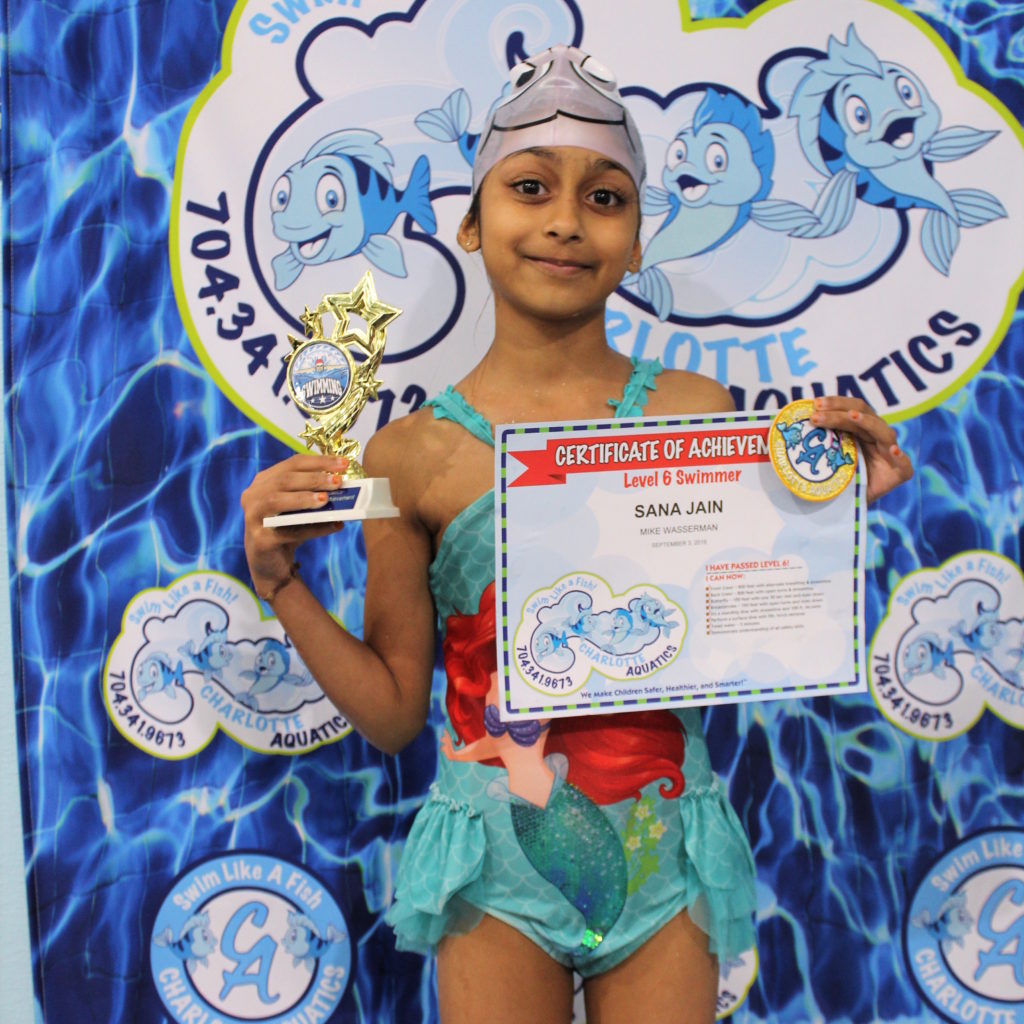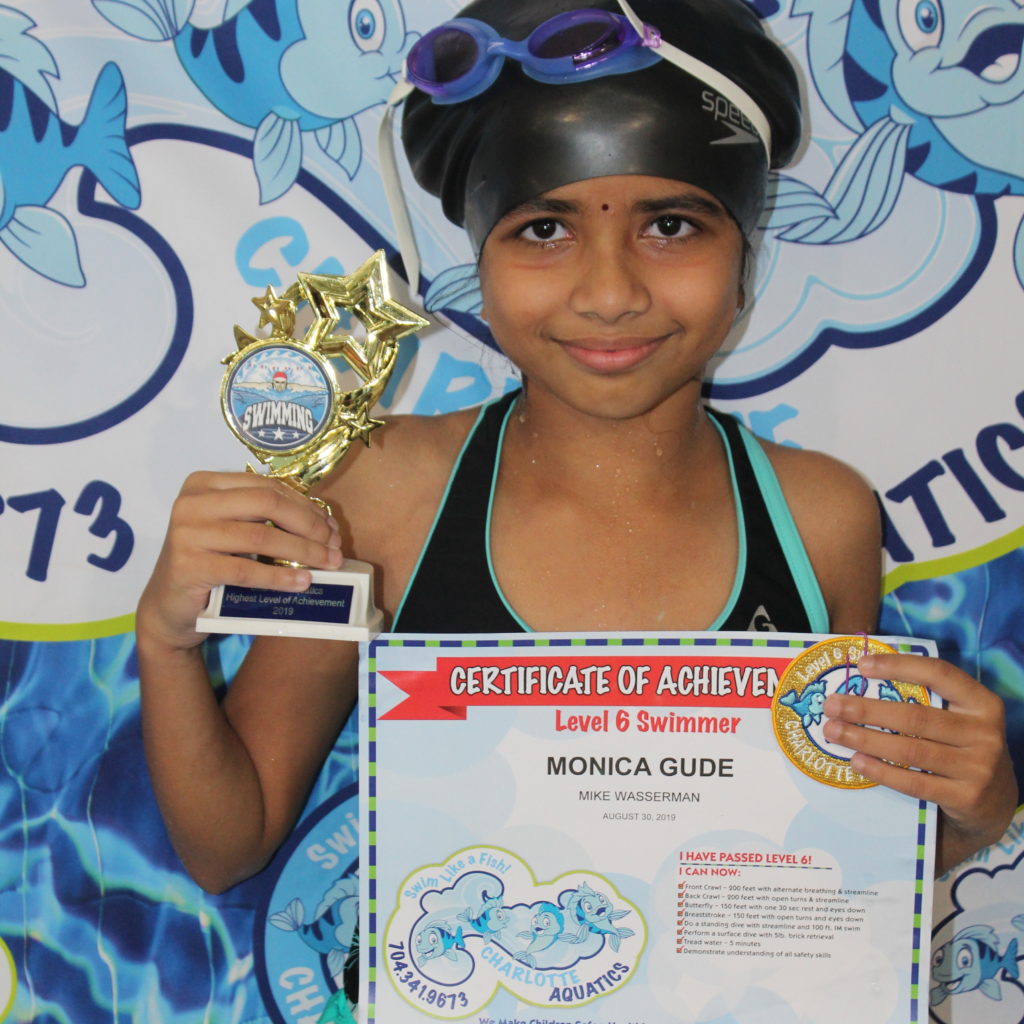 My name is Monica and I am 9 years old and in fourth grade. I love to play violin and read. I am really enjoying the Harry Potter series right now. My best swimming memory was when I was underwater swimming for the first time. My favorite stroke is breaststroke. I keep all of my patches on my trophy shelf. What I like the most about Charlotte Aquatics is the great teachers- Mr. Mike is my favorite! My best memory is getting my level 6 trophy!
Evie has been swimming at Charlotte Aquatics since she was 3 years old! She loves to swim and has flourished at Charlotte Aquatics with the wonderful instructors. Evie has been eyeing her Level 6 trophy since she was old enough to notice the other kids earning theirs – she is SUPER excited to be receiving hers after the years of hard work. When not swimming Evie loves art, reading, and playing with her pets. Every memory she has made at Charlotte Aquatics has been a fabulous one.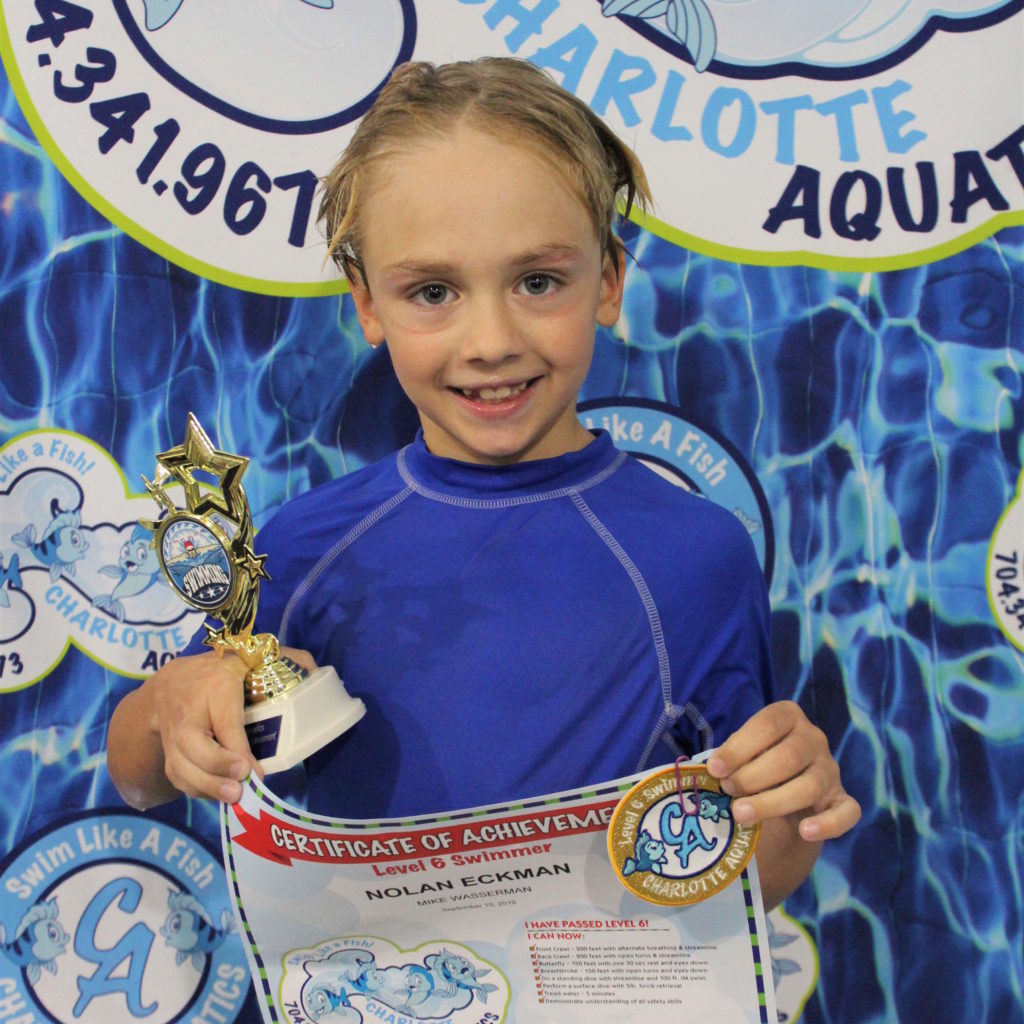 My name is Nolan and I am 7 years old. When not swimming I play tennis, baseball, and piano. Additionally, I'm learning Russian and Chinese languages. I started swimming at age 3 here at Charlotte aquatics. Ms. Gigi was my first teacher. Although I had many great coaches my favorites were Ms. Gigi, Mr. William, Ms. Megan, Ms. Deborah, and of course Mr. Mike. 🙂 My favorite stroke is the Breaststroke, my best swim memory is the daily humor, fun, and excitement brought to swimming by Mr. Mike. What I like the most about Charlotte Aquatics is that I now have the confidence to swim in the lake and community pool. Thank you, Charlotte Aquatics, for teaching me to be an accomplished swimmer.
Thomas, who is 7 years old, started classes at Charlotte Aquatics a little before he turned 3 years old. He set his sights early on receiving the coveted Trophy for passing all six levels after seeing (what seemed like much older) kids graduate and receive their trophies. He has had so many wonderful teachers coach him throughout his time at Charlotte Aquatics. His most memorable time was when he slipped getting out of the pool and had to get stitches – ouch! Thomas was exceptionally brave and has a tiny scar on his chin to remember it by. Thomas has grown up so much during his time at Charlotte Aquatics and is now one of the older kids that he used to admire. He is so excited that it is finally his turn to graduate and receive his own Trophy!