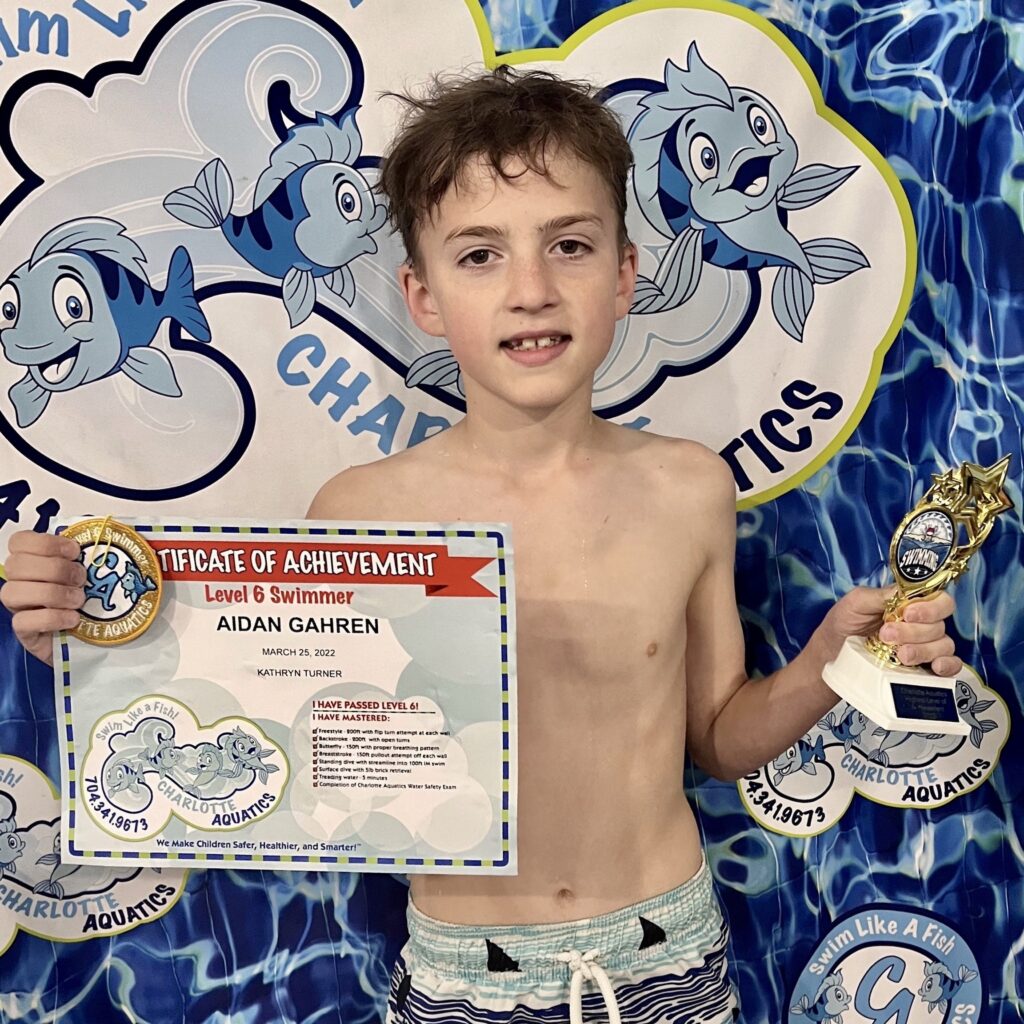 Hi! My name is Aidan and I am 9.5 years old. I have been swimming at Charlotte Aquatics since December 2013 (9 years!). My mom would take me in the pool with Mr. Mike. Mom says I loved to go under the water, but I think I remember going down the slide. I loved to ride in the Canoe too. The rope was my absolute favorite but I got in trouble for holding on to long and once almost knocked Ms. Kathyrn into the pool! My favorite stroke is the front crawl, because I can move fast with it. Butterfly is also fun.
One of the best things about Charlotte Aquatics is knowing that I can be in the water anywhere because I know how to swim! I have been taking swimming lessons since I was 6 months old. They practice turning to the wall a lot. When I went out one day when I was almost 3, I fell into the lake off a dock. My Dad was scared, but I just turned and grabbed the wall like they said. It was only not fun because I had all my clothes on.
My favorite memory of Charlotte Aquatics is being able to swing on the rope. We stopped doing that as I got older and I miss it.
I have loved all my teachers at Charlotte Aquatics. I love Ms. Kathryn and how she always makes sure that I did the right strokes and never let me be still too long. I even remember when Ms. Kathryn was teaching Mr. William. Mr. Mike always made me laugh with his high fives and then he taught Mr. William and Mr. Devyn the same way. Mr. William and Mr. Devyn are really good at encouraging us – LOUDLY! Ms. Deborah and Ms. Lexie really like to see the right breathing and strokes. Ms. Megan never let me give up. I had a handful of other teachers too, and they really helped me move in each of my levels!
It has been a lot of fun swimming at Charlotte Aquatics, and I am excited to be finished with all the levels! I worked really hard to get here. Thank you for always helping me. I did it!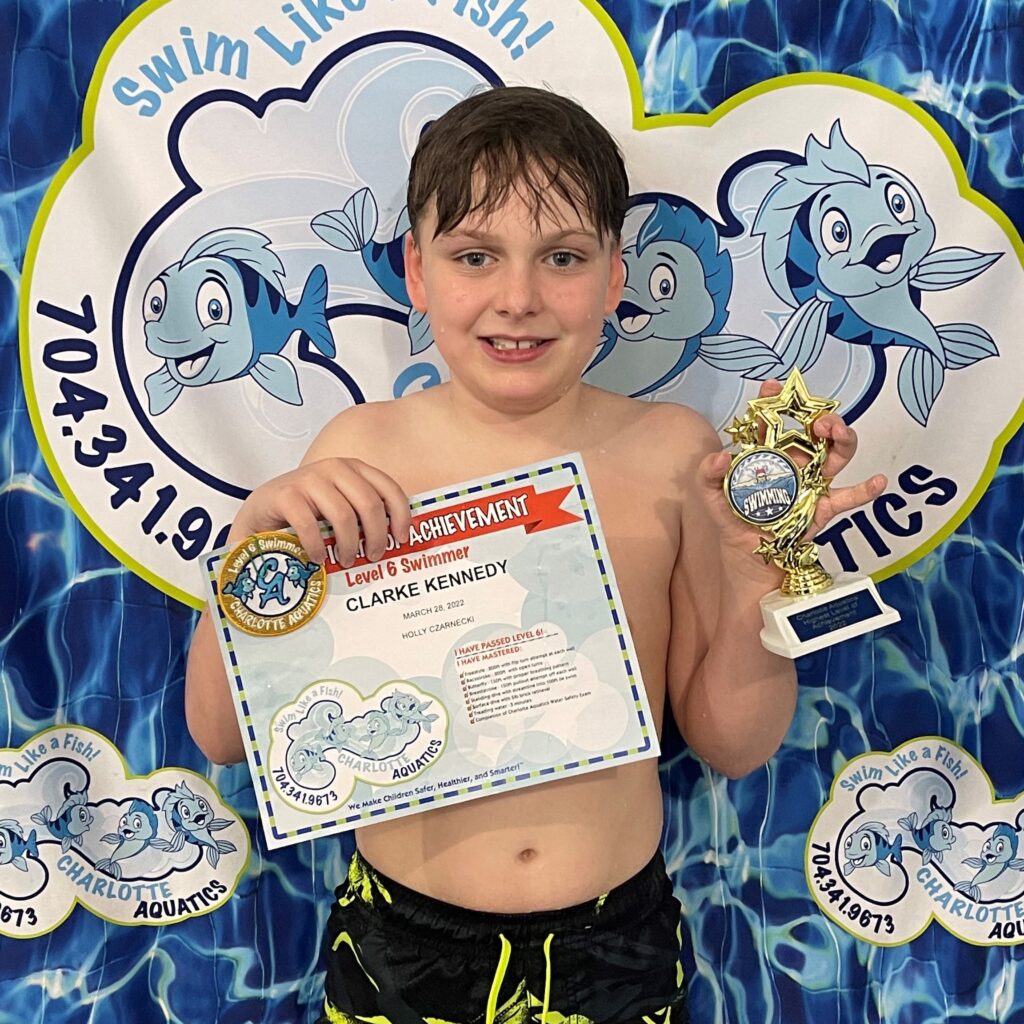 My name is Clakre and I am 10 years old. When I am not swimming, I go to my brother's soccer and run around. I also enjoy playing video games, hockey and playing with my brother. My best swimming memory is when I swam the IM and found out that I graduated. My favorite stroke is breaststroke. Swimming has changed my life by giving me exercise with my body. I had a great time at Charlotte Aquatics, and I enjoyed all my teachers. Everyone is very nice and helpful. My favorite memory is going to swim when I was a baby. Thank you to all the wonderful teachers at Charlotte Aquatics you have been so amazing.
Hello!! My name is Leila, I am 10 years old and I am in the 4th grade. When I am not swimming, I like to read, draw, and play Roblox with my friends! My favorite swim memory is when I did my first flip (I got a lot of water up my nose though)! My favorite stroke is totally the butterfly. It's hard, but fun and challenging. Swimming is an interest I have had for a pretty long time. I want to do it and hopefully make it to the Olympics someday. I like Charlotte Aquatics because of the people there. They are cheerful and patient, but also get it done when it needs to be done. My favorite memory is when I came to my first class. It was fun and I really liked it.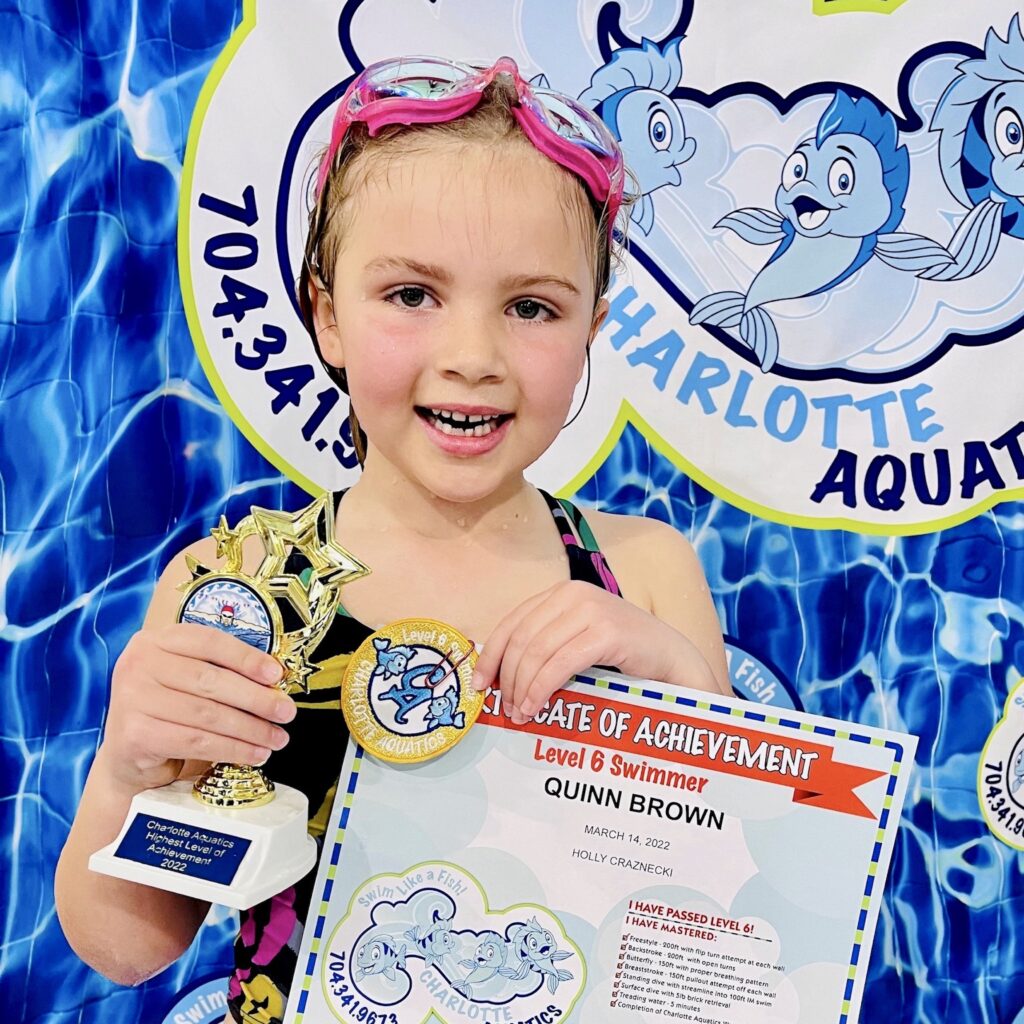 Hi My name is Quinn and I am in Kindergarten. I have been attending classes at Charlotte Aquatics since I was 3 months old and have grown up with the staff and instructors. In addition to swimming, I paint, color, draw, play soccer, volleyball, travel, and hang out with my family and friends. My favorite swimming memory is looking over and having mom and dad wave and be proud of how I did. I keep all my patches in my 'special' dresser drawer and I am super excited to get my graduation trophy! That will go on top so I can see it all the time.
I like all the swimming strokes, but my favorite is the breaststroke. I really glide and move fast with that one. Now that I am a really good swimmer, I can play in the pool with my friends, jump off the side, splash and have fun without mom and dad worrying so much. The instructors at Charlotte Aquatics are the best. They teach you how to do hard things, but make it fun and I always look forward to going. Thank you Ms. Gigi, Ms. Deborah, Mr. Mike, Ms. Lexie, Ms. Katie, and Ms. Holly!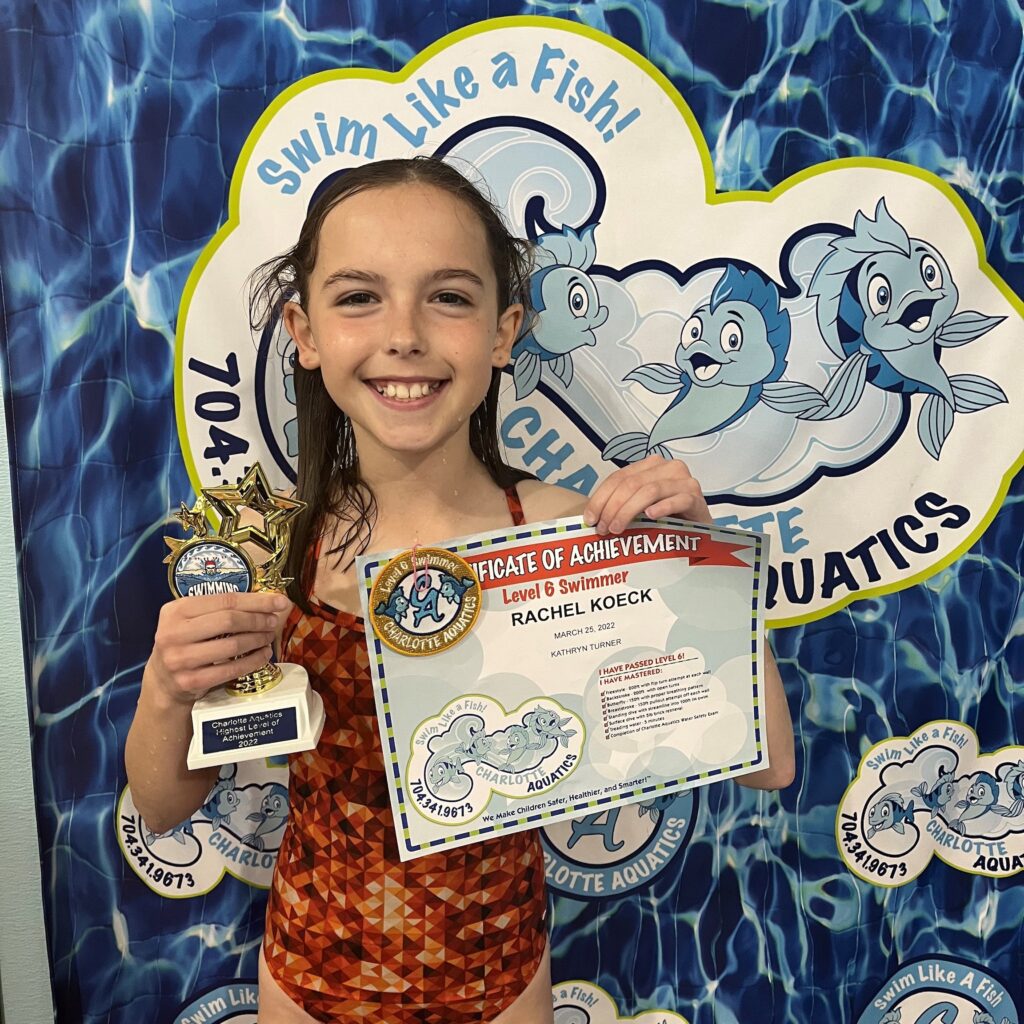 My name is Sharanya and I am 12 years old. When I am not swimming, I like to read books and watch TV. Swimming has changed my life. My favorite strokes are Butterfly and Freestyle. My best memory of Charlotte Aquatics is skipping a level and passing from 4A to 5. I love the instructors and competing with my peers.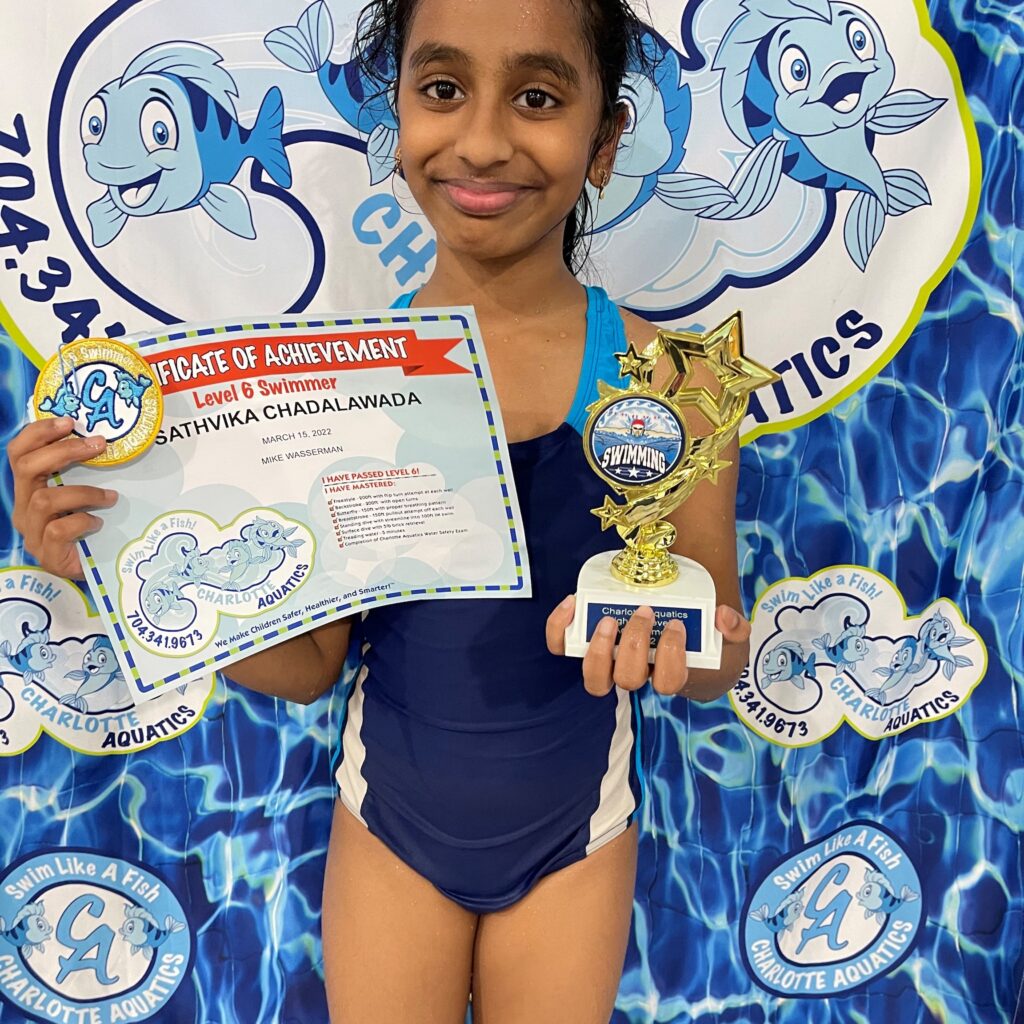 Hi! My name is Siena and I looooove to swim! I started swim at Charlotte Aquatics when I was 6 months old. Last Summer(2021)I joined Olde Georgetowne swim team (Go Dolphins!!). All my hard work paid off when I came in 3rd at the All Star meet for backstroke, which is a great stroke. I personally love the backstroke the best.
Learning to be a strong swimmer has made Summers so much fun. Diving off the big board, doing tricks, swimming with my friends, teaching my little sister tricks in the pool, and especially boogie boarding when we go to the beach.
Hi! My name is Yasna and I am in 6th grade. Charlotte Aquatics was a great experience for me when I started at 8 years old. I love to make art and read in my free time as well as hang out with my friends. When I first started going to the classes at Charlotte Aquatics, I quickly made great memories. My favorite memory here is my first class. I barely knew how to swim and was terrified of going near water, but I slowly started developing the skills and endurance I needed. Every time I got a certificate with a patch, I put them in a display folder near my bookshelf. My favorite stroke is the butterfly because it feels like I'm maneuvering the water in a way that I can control my speed but also feel free while I'm swimming. As I mentioned before, I used to be terrified of water, so when I started taking lessons at Charlotte Aquatics, it felt like I was free to swim without a fear of the water. However, nothing would be possible at Charlotte Aquatics without all of the amazing instructors giving the lessons. I have so much fun here and am excited for the next step in Charlotte Aquatics.
Parent note: Thanks again for all your and your team's great work! We're thrilled to be part of the Charlotte Aquatics family.