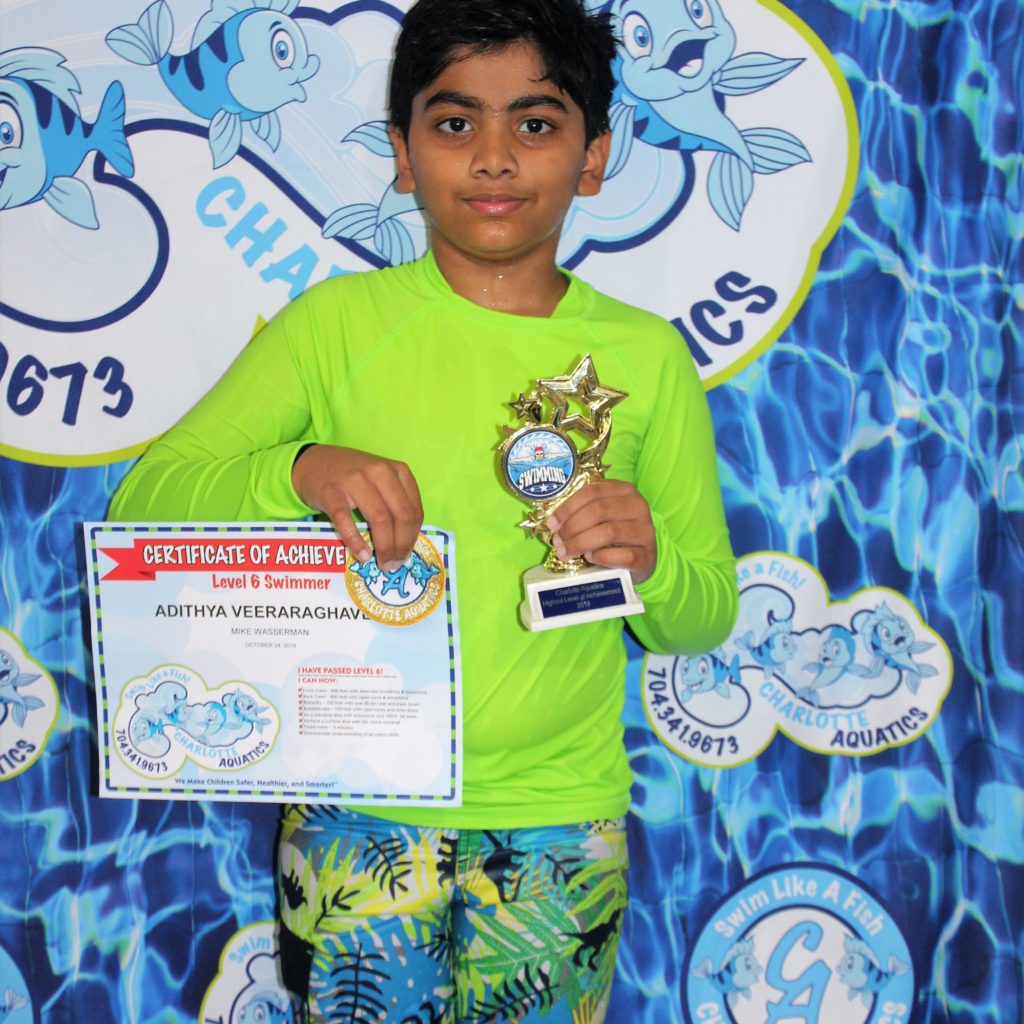 Adithya is 9 years old and in the third grade. From a boy who was so afraid of water to someone who braves any pool, the transition of Adithya has been tremendous. He is the first swimmer in his family.
His Favorite stoke is butterfly. When he is not swimming, he is playing the piano. He loves math and solving puzzles and is an avid reader. Though he loves all his teachers, Mr. Mike, Ms. Megan and Mr. William are his favorites and he has been so fortunate to have been taught by Mr. Mike.
My name is Clara. I'm 7 years old and in second grade. I love swimming and when I'm not in the water I like playing the piano, playing with my friends and drawing. It was so great for me being able to swim by myself for the first time without being afraid and when I got a patch when I passed the level for the first time. I collected all my patches in my room. My favorite stroke is breaststroke, the last stroke I learned. I was totally afraid of the water before I was able to swim. It was such a great experience to become friends with the water. Since then my mom cannot get me out of the water and my favorite animal is a dolphin. The teachers of Charlotte Aquatics are all so nice, patient, and taught me a lot in an awesome way. I will never forget the amazing teachers and the rope swinging into the water. Thank you so much for such a great time.
My name is Sadie and I am six years old. When I am not swimming, I love to play with Barbies and ride my bike. My favorite swim memory is diving off the dock into the lake with my sisters and friends. I've saved all of my swim patches for my baby book. My favorite stroke is breaststroke. Swimming makes me stronger and happier. I like the rope swing most of all at Charlotte Aquatics. And the lollipops! My favorite memory of Charlotte Aquatics is winning the rope swing distance competition. I will miss coming to swim lessons, especially seeing Ms. Gigi. I've been seeing her since I was in my mommy's belly.
My name is Daniela and I am 11 years old. I enjoy playing piano, dancing, reading, and playing with my friends. My best swimming memory is swimming to the bottom of a 7 ft. deep pool. All of my patches are on the countertop. My favorite stroke is backstroke because you can breath most of the time. Swimming has changed my life by helping me get rid of my fears of swimming in deep water. I really like the teachers and instructors at Charlotte Aquatics, they give helpful tips and help you swim better. My favorite memory of Charlotte Aquatics was learning to dive.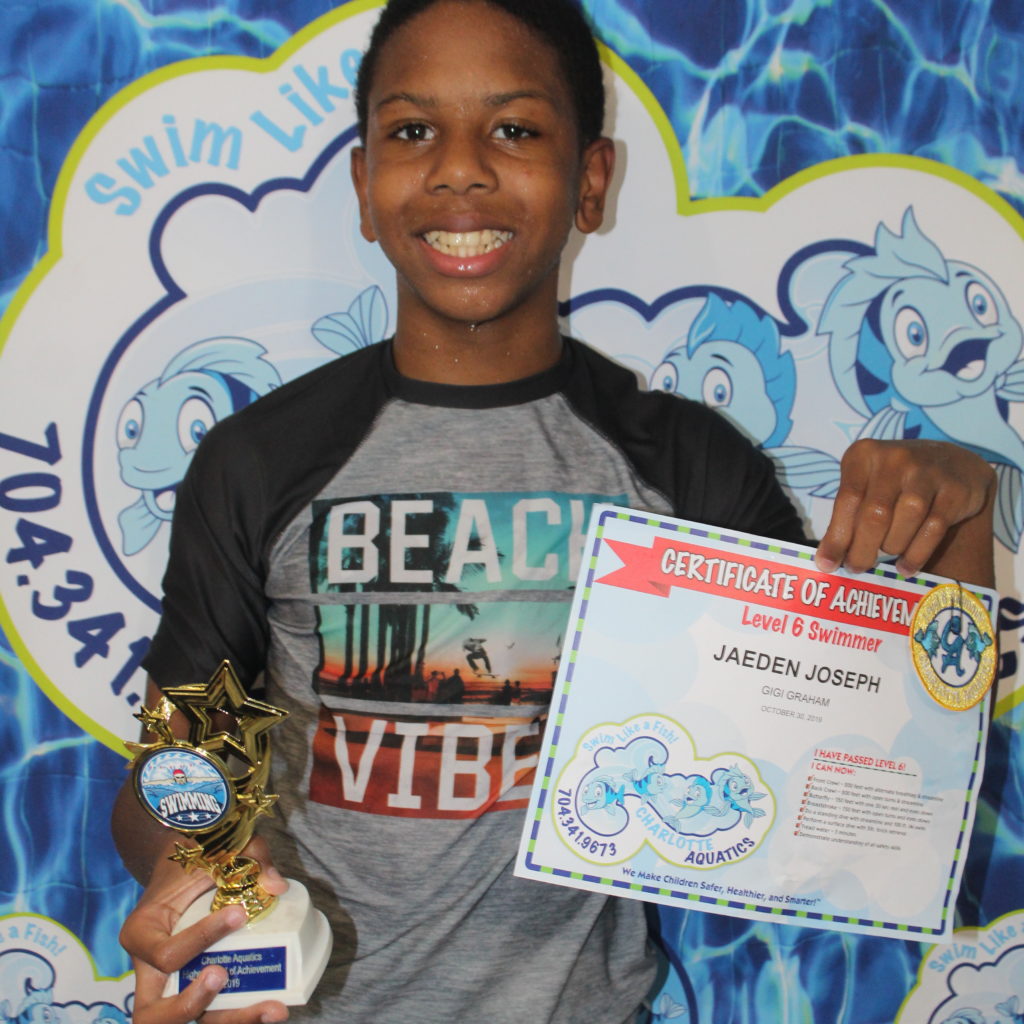 Jaeden is 12 years old and in sixth grade. After taking 2 years off from swim due to surgery, he is excited to complete level 6. His best swim memory is learning how to dive in the water and his favorite stroke is the butterfly. His favorite swim instructor is Ms. Gigi as she is loud just like mom. So, he feels right at home! He likes Coach Gigi because her yelling keeps him swimming when he feels tired. Swimming has changed his life as he is comfortable going in the deep end of the pool at summer camp. Now that he has accomplished his goal of level 6, Jaeden will continue with playing video games, competing in soccer and basketball, and learning how to play the trumpet.
Hello! My name is Arman and. I am 11 years old. Some things that I like to do when I am not swimming is playing my acoustic guitar, bicycle with my brother and friends, run, and play outside. My favorite memory of swimming was when I recently took a trip to Charleston and went swimming at the beach with my Dad and brother.
My parents put me in swimming when I was just a few months old because they saw this as a life skill, and I am so happy that I got a chance to improve my natural skill of swimming. I always get to improve my swimming strokes with the help of my favorite instructor, Mr. Mike. My favorite swimming stroke is the butterfly stroke because it uses all parts of my body. Now, because of Charlotte Aquatics, I am a true success in life. Thank You Charlotte Aquatics!