Bella is a 3rd grader. She loves to draw flowers and dance. Bella's favorite stroke is the breaststroke. She loves swimming with her brother Nathan and is thrilled when she beats him in the breaststroke. Bella loves how the instructors are very nice and the weekly themes! She is more confident in the water and genuinely enjoys swimming now. Thank you, Charlotte Aquatics!
Cameron has been swimming since he was 4 years old. Through the years, he has enjoyed how Charlotte Aquatics makes swim class so fun – from swimming with the pumpkins for Halloween to swimming fully clothed for Water Safety week. With the skills and endurance he acquired during lessons, he joined his neighborhood swim team at 5 years old and this summer had top times for his age group in freestyle and backstroke! He was so proud of himself and looks forward to his future in swimming. We thank Charlotte Aquatics instructors for teaching him over the years.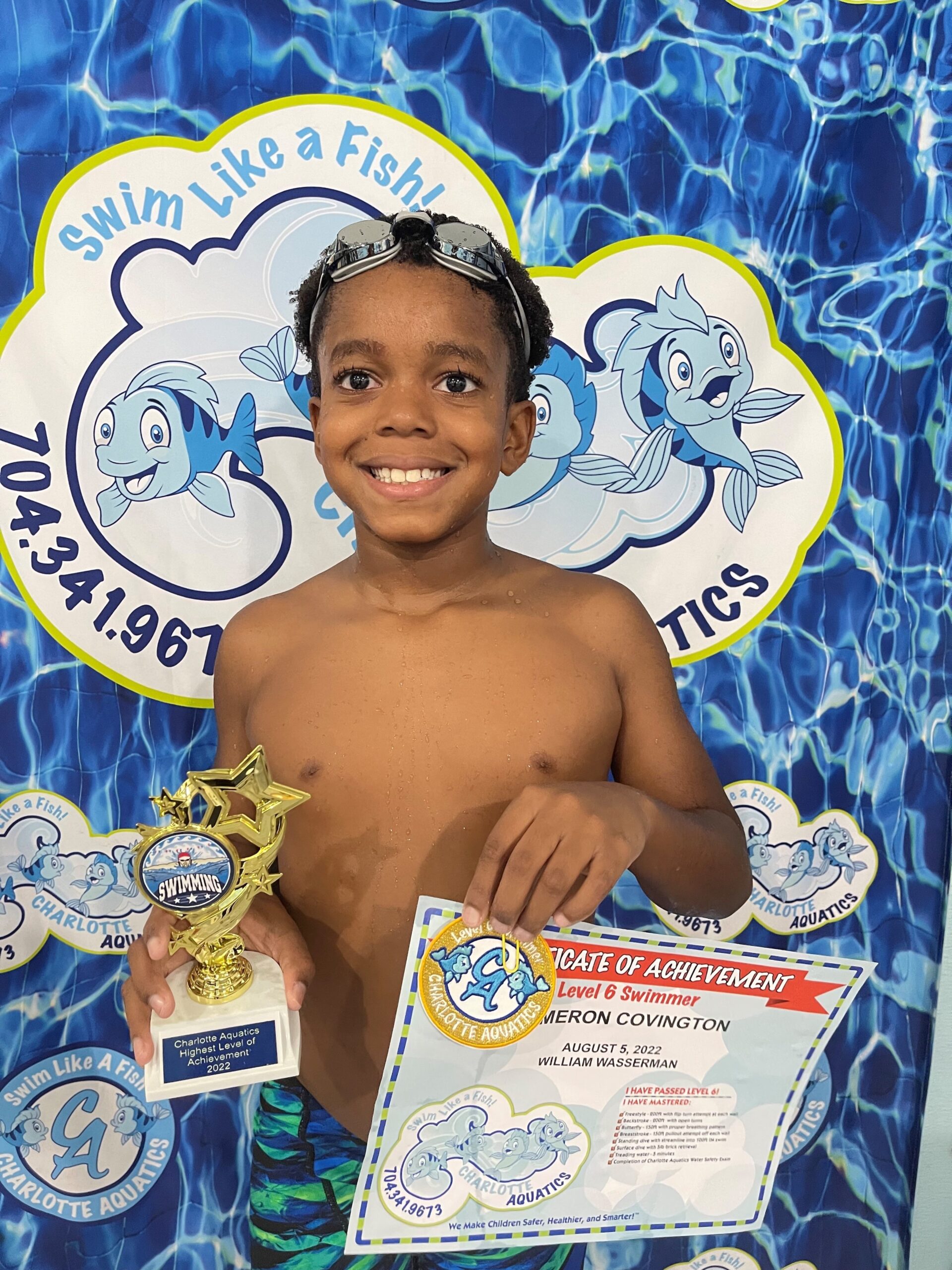 Hi! My name is Nathan, and I've started swimming at Charlotte Aquatics in 2021, but before that I only knew one stroke and that one was freestyle. It's been a blast at Charlotte Aquatics learning all these other strokes. When I'm not swimming, I'm most likely playing tennis or playing Brawl Stars (a video game). Swimming is one my favorite sports to do.
Freestyle is my favorite stroke with the Butterfly as a close second. One of the other things I love about Charlotte Aquatics is that they have all these different themed events; like swim with your pajama's on or try to push these pumpkins to the end of the pool.
Charlotte Aquatics has given me the opportunity to swim freely in the water. Otherwise, my mom would have to be swimming with me. Overall, I've had an unforgettable experience at Charlotte Aquatics. Thanks to my teachers: Ms. Megan N, Mr. Mike, Mr. William, Ms. Olivia, and Ms. Molly.
Sarah Beth loves to play with her sister, play soccer and do gymnastics, but she really loves swimming. Her favorite stroke is freestyle. Being a good swimmer has helped her keep up with her 3 older siblings in the pool in the neighborhood and the one in our backyard. We have saved all the patches and certificates in her Baby book. Sarah Beth's favorite thing about Charlotte Aquatics is the teachers.
Parent Note: We've been swimming there since about 2009 when our oldest, Katelyn was about 3. All 4 of our kids have been level 6 champions. Thanks to everyone there who have helped us complete our swimming lessons journey. It's nice to be able to feel confident in your child's swimming abilities.