My name is Zoe. I am 7 years old and in the 1st grade. I love to roller skate, play with my dolls and dance when I'm not swimming. I've been taking swimming lessons since I was 3 years old. I was so excited when I got my first swim certificate. My mom has saved all of my certificates and patches in a scrapbook.
My favorite strokes are the breaststroke and the butterfly. Learning different strokes has changed my life. I like doing them and trying to teach my mom when we're at the pool. What I like most about Charlotte Aquatics are the different coaches, how they all teach you something different and how to be safe. My favorite memories are when we got to swing on the rope, swim with the pumpkins, and when the coaches would throw us in the pool. I am so proud of myself for making it to level 6.
Thank you (Ms. Gigi, Ms. Deborah, Mr. Mike, Mr. William, Ms. Megan N, Ms. Megan M. and Ms. Garrett)
Parent Note: We are very thankful for everyone at CA who has contributed to Zoe reaching level 6. The victory dance she did and hearing her say over and over, I did it mom! I did it, after reading her congratulatory email was priceless. Thanks for the safety classes, the love you have to teach kids and the confidence you instilled in Zoe. CA Rocks!!!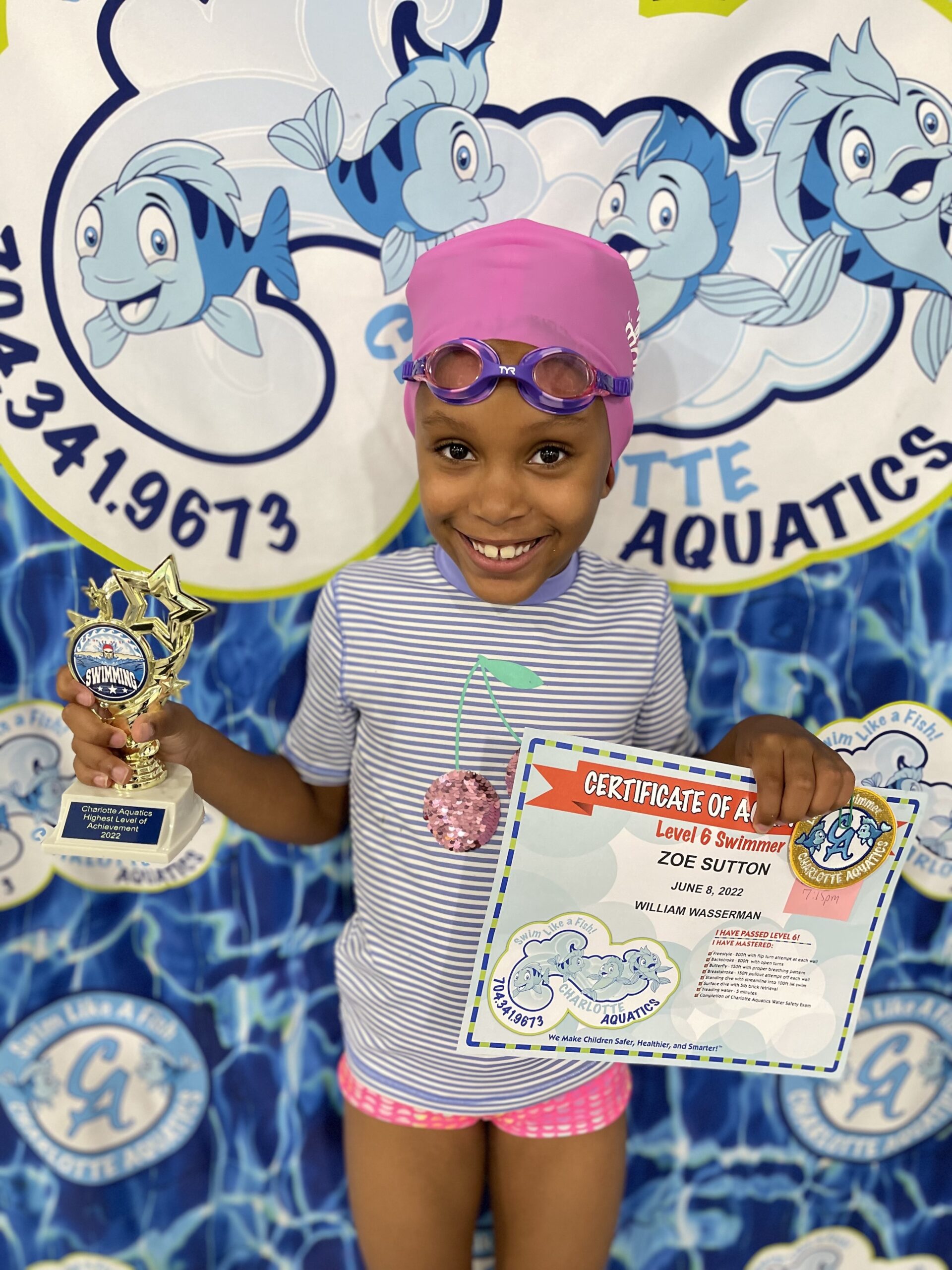 Hi! My name is Rebecca. I am 8-years-old and in the 2nd grade. I love art and reading, playing violin, and going horseback riding when I am not swimming. I prefer to swim anytime I can. I have been swimming at Charlotte Aquatics since before I could walk! Daddy and I started swimming at parent-child lessons in July 2015, and I have been hooked ever since. My favorite stroke is the breaststroke. My favorite thing about CA is how much fun we have learning. I also love swimming with pumpkins every year. My favorite memories are swinging on the rope, learning to float, and taking extra classes to get my dive right. I also remember getting pop-pops and tiny dolphins from Ms. Garrett and posing for fun pictures for every theme week. All of the instructors are amazing but Mr. William has always made learning extra-fun. Thank you, Mr. William, for pushing me to swim faster and better. Thank you, CA, for teaching me to swim and for teaching me that hard work pays off!