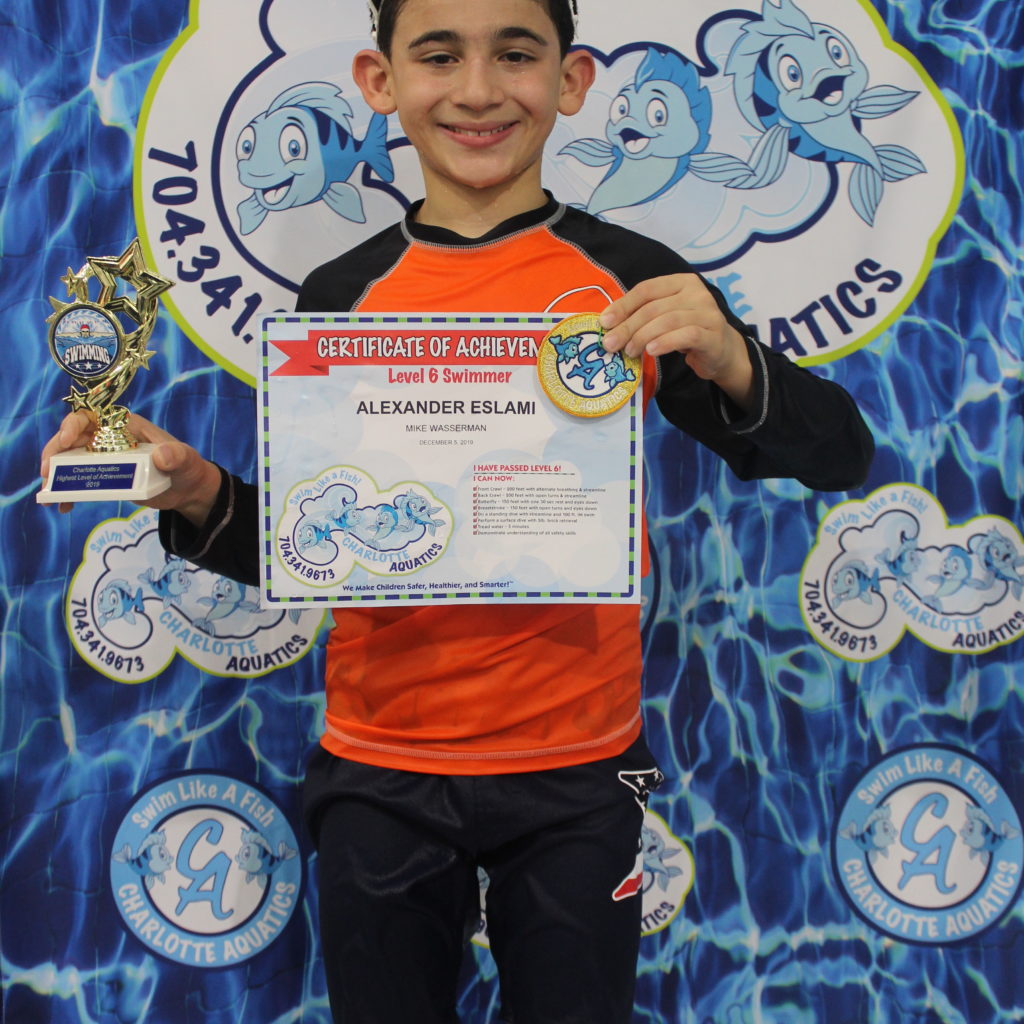 "My name is Alexander and I am 9 years old and in 4th grade.  When I am not swimming, I am doing a lot of other physical exercises like running, bicycling, push-ups, pull ups and playing outside with my friends.  The best swimming memory I have is when I graduated level 6 at Charlotte Aquatics and was recognized and appreciated for my swimming.  All the swim patches that I have received are in a memory book that my Mom is keeping for me for when I get older.  My favorite stroke is the butterfly stroke because I am good at it and I can swim fast!  Swimming has changed my life because I can save someone's life if they are drowning.  That's a big deal!  Not everyone knows how to swim!  What I like most about Charlotte Aquatics are the people.  They are skilled, kind, and generous.  I will really miss them and coming to Charlotte Aquatics.  "
Beckett is seven years old and is in second grade. He's been swimming since he was a baby, and his favorite memory at Charlotte Aquatics is being silly with Mr. Mike! When Beckett was younger and struggling to master rotary breathing he watched the "big kids" graduate and he set a goal for himself to earn the trophy, also. His favorite stroke is the breaststroke. When he's not swimming, Beckett enjoys playing basketball and piano, building LEGO sets and coding.
Beckett really connected with Ms. Olivia and she really helped keep him motivated by cheering him on and quizzing him on square roots while he was treading water! They had a great time together and we are so thankful!
Thank you all for making a big deal of graduation! It teaches the kids a great life-lesson! We love Charlotte Aquatics!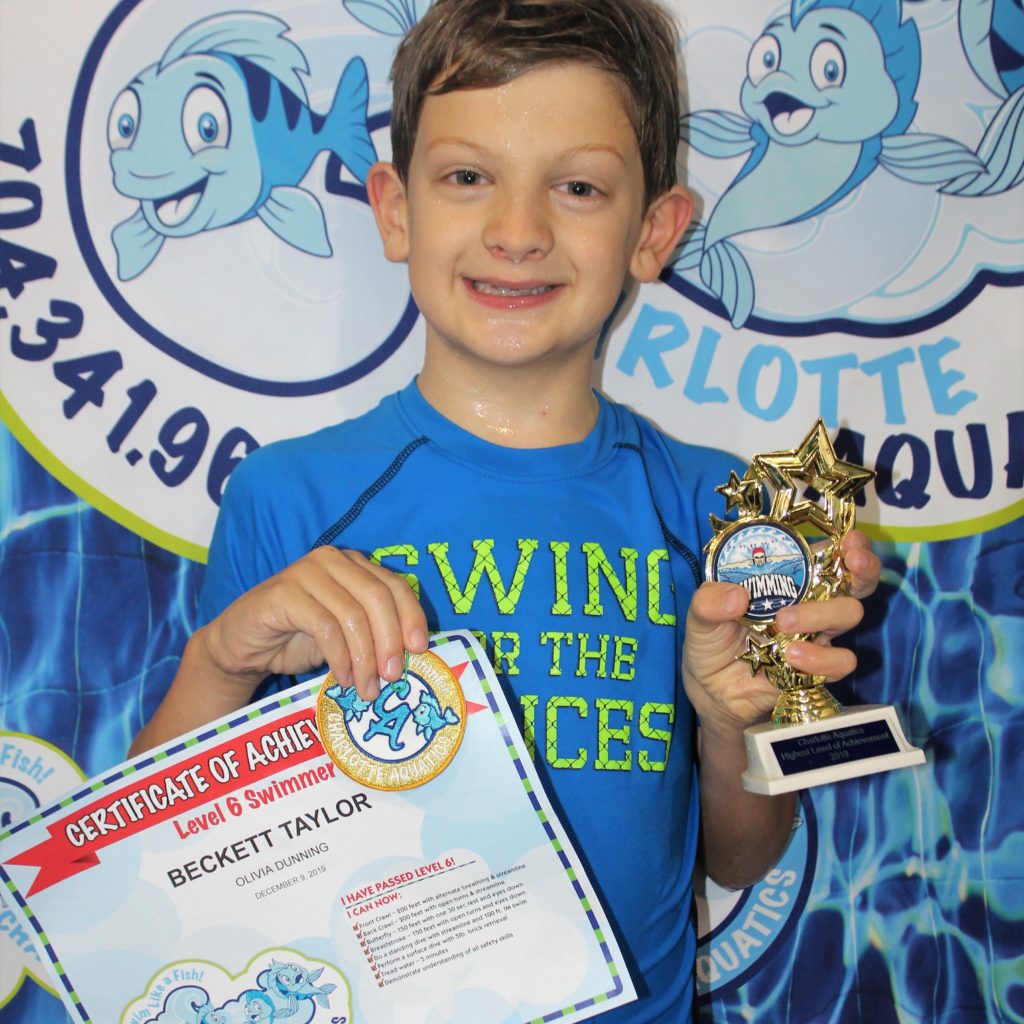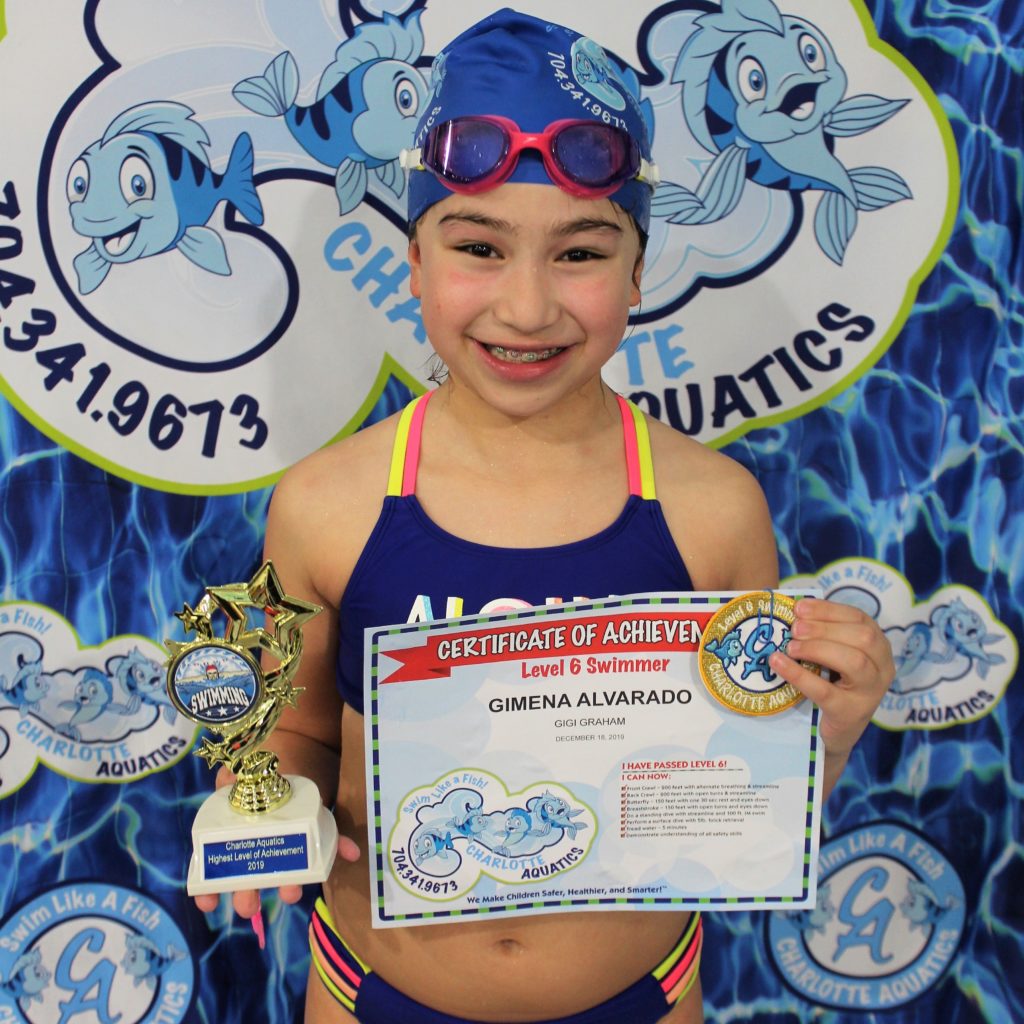 My name is Gimena Alvarado, I'm 8 years old and I'm in 3rd grade. I'm originally from San Pedro Sula, Honduras and have lived in the US since I was almost 2 years old and it is in this amazing country that I call home where I learned to swim and I love it!!!
When I'm not on the pool I'm actively participating in ballet (since I was 3 years old), singing at BES Chorus and this year I started learning how to play violin at BES Orchestra. As far as free time, I enjoy going to the movies, playing with my AG dolls and playing outside with my brother and riding our bikes.
I've got at least 8 patches for all the swimming levels I conquered. My mom keeps them in my memory album along with all my other school awards. Every new stroke I learn becomes part of my best swimming memories as I enjoy new challenges. Swimming has increased my self-confidence to learn and excel at all my goals or challenges.
Charlotte Aquatics staff has always been very kind and sweet! Probably the best memory I have, on top of all my graduation days, is the kindness and support my coaching staff showed this year as I recovered from my back injury. They helped me while I was going through it and as I returned by creating a therapy/recovery plan for me to be back in the pool at full speed! Thank you Charlotte Aquatics could have not asked for better coaching, friendship, and leadership, especially to coach Megan, Deborah, Katheryn, William and Gigi.
Rebecca's mom remembers the first class she took with Miss Gigi in October 2016. "She kept smiling the whole class, for she really enjoyed the swimming class. How time flies! Today is her last class with Miss Gigi in Charlotte Aquatics. We appreciate all Miss Gigi did for her; teaching swimming skills and telling her to never give up in hopelessness. She got a lot of happiness and tears in swimming, it's such a precious experience. In the past three years, she stayed in the swimming pool and witnessed so many kids holding up the trophy. She always asked when is it my turn. Right now, it's your turn! Congratulations, Rebecca, you graduate level 6 at Charlotte Aquatics. I'm so proud of you! As you wish – this trophy is the best Christmas gift in 2019 you could get."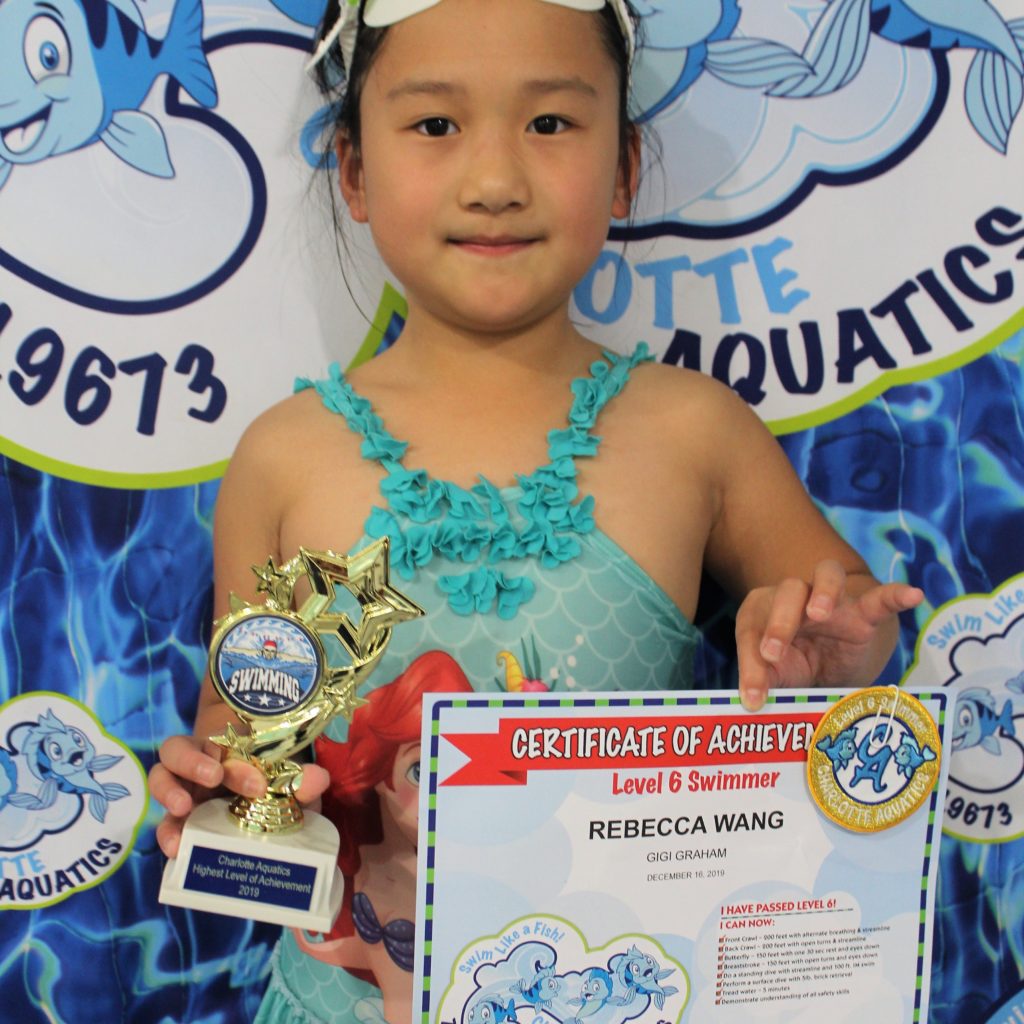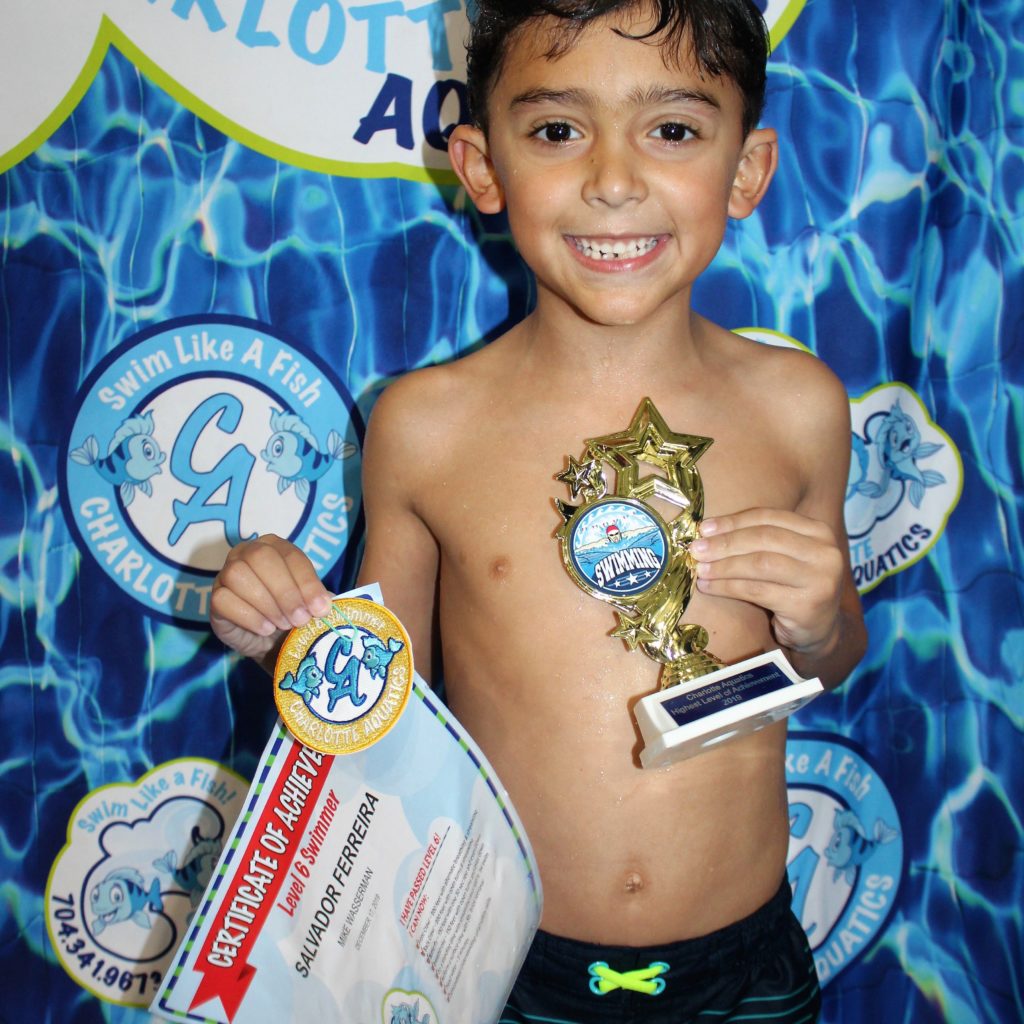 Salvador started at Charlotte Aquatics when he was six months old and has never taken a break, he takes his swimming very seriously and loves being in the pool. In his free time, he loves playing baseball, playing electric guitar and spending time with his family. His favorite stroke is Breaststroke. He loves Charlotte Aquatics because all the teachers are really nice. He was extremely excited to get his trophy after completing all levels and now he is also excited to continue swimming with the Elite Fish Program!
Reagan has been swimming at Charlotte Aquatics since she was 2.5 years old. When she isn't swimming, she is doing tumbling, competition cheerleading, neighborhood swim team, and hanging out with her family and friends. She has loved all her coaches at Charlotte Aquatics especially Gigi and Mike. Both Gigi and Mike pushed her to be better and were integral in helping her graduate. Her parents would say her best stroke is the backstroke, but she will tell you that her favorite stroke is the butterfly. Her favorite memory was getting first place in a recent "class race" (she may be slightly competitive). Swimming has helped her be safe around water, gain confidence, but most importantly (according to her), hang out with her friends at the neighborhood pool without her mom and dad right beside her.