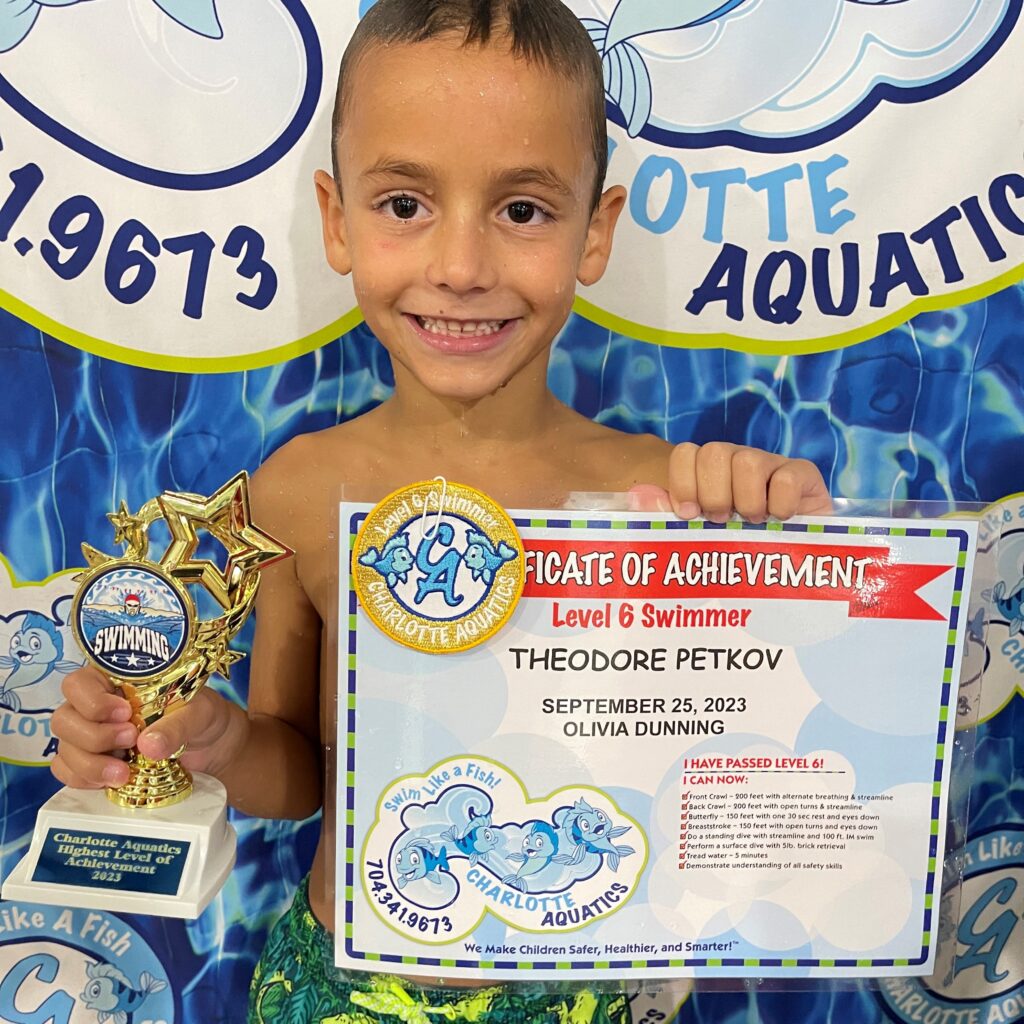 Hi my name is Theodore and I am 7 years old and I am in 1st grade. I have really enjoyed coming to Charlotte Aquatics for swimming lessons over the last 5 years.
I am so happy and proud to have set the goal of getting MY trophy and accomplishing it! When I'm not swimming, I am playing basketball, ride bike, playing with my friends. My favorite stroke is breaststroke and my favorite swimming memory is learning from all my awesome teachers, especially Miss Gigi and Miss Lexie!
Thank you for everything Charlotte Aquatics! You all are THE BEST!
My name is Aaradhya, I am 9 years old (almost 10) and am a rising 4th grader. When I'm not swimming, I enjoy drawing, painting and baking delicious food, playing on the trampoline, and riding my bicycle. Swimming lessons have given me confidence in the water and my favorite stroke is the breaststroke. My favorite memory at Charlotte Aquatics is one of my teachers Mr. Mike who makes us laugh in the pool. My mom has kept all of my patches and certificates. I am very happy to complete all 6 levels and earn the Charlotte Aquatics trophy! I can remember this awesome place! I am glad that I can have fun in the water safely. I will miss everyone!
Hi, my name is Shaurya Bansode. I am 10 years old and a 5th grader. When I am not swimming, I like to dance, play with my friends, and travel. My favorite stroke is Breaststroke. Swimming changed my life by opening a new door to competitive swimming, Also, I feel free and happy when I swim. My favorite thing about Charlotte Aquatics is, the teacher's there are always funny, fun and caring. My favorite memory there was when Mr.Mike used to pretend that we did stuff to him when he used to do it to himself. It made me laugh a lot and made me want to stay at Charlotte Aquatics even more. I hope Mr.Mike, Ms.Kaela have a good time and I will miss them a lot.
Thank you, Charlotte Aquatics, for teaching me to be an Amazing swimmer and teaching me how to swim and encouraging me to keep on trying for strokes which was hard for me.
Bio coming soon…